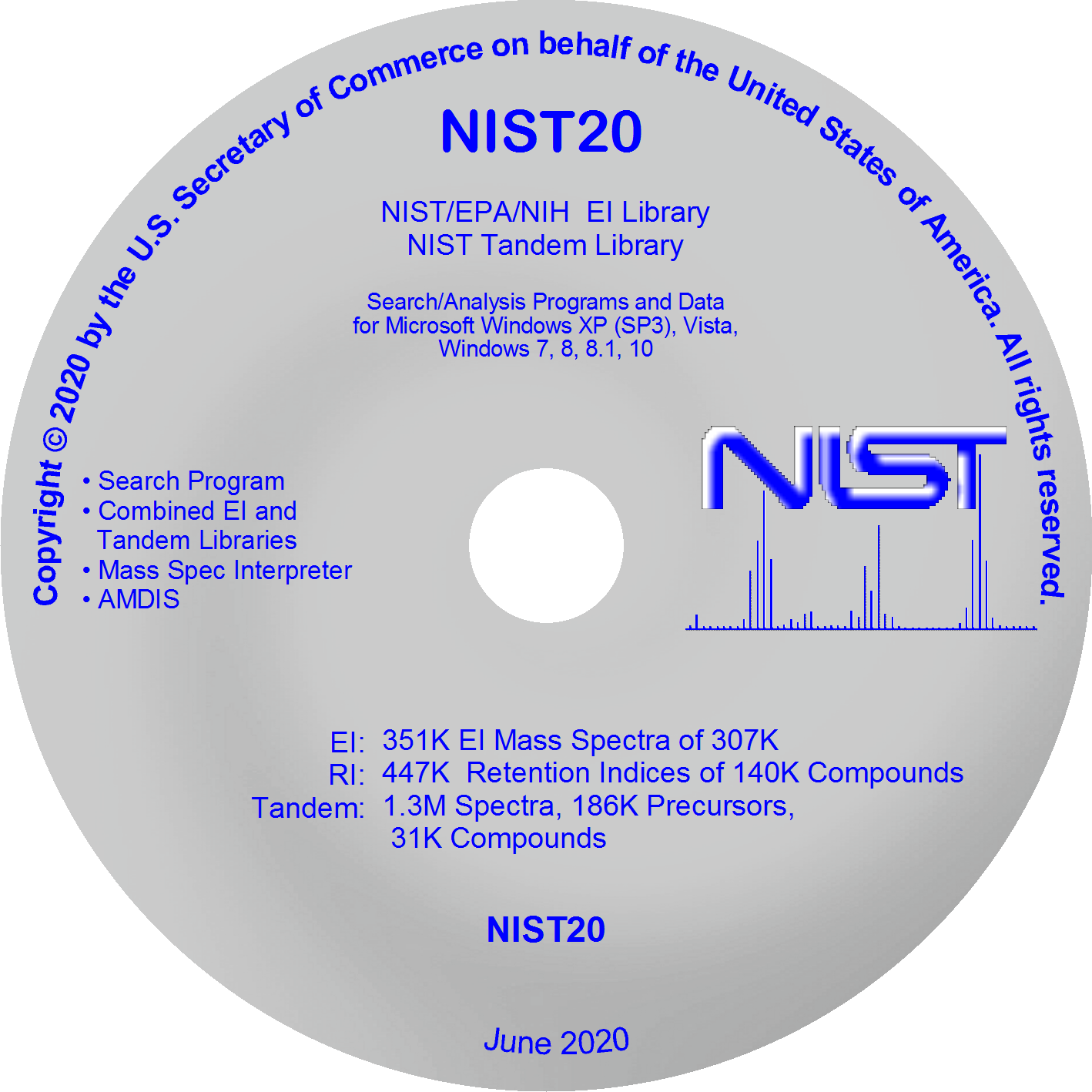 NIST20 Delivery Options: FTP or DVD
For other order options, contact:
GC Image, LLC
PO Box 57403
Lincoln NE 68505-7403
USA
email: info@gcimage.com
phone: +1.402.310.4503
fax: +1.402.436.2660
GC Image has deeply discounted pricing on the new NIST/EPA/NIH Mass Spectral Library and Search Software (NIST20). GC Image, a licensed distributor, offers discount pricing of only $1995 for a new license and $1495 for an upgrade from a previous version. Additional discounts are available for simultaneous purchase of multiple licenses.
These libraries have grown in coverage by the fastest rates since their inception. The EI library will contain spectra of over 306,000 compounds, an increase of nearly 40,000 from the 2020 version. The Retention Index library showed a corresponding increase. The Tandem library will double in coverage, with the number of compounds increasing to over 27,000 – including 1.2 M spectra and 288 K precursor ions. [NIST, 2020]
NIST20 consists of new and enhanced versions of:
NIST/EPA/NIH Electron Ionization (EI) Mass Spectral (MS) Library;
NIST non-spectral data;
NIST Tandem (MS/MS) Library (also sold separately);
NIST GC Method / Retention Index Library (also sold separately);
NIST Mass Spectral Search (MS Search) Program, with new AI Retention Index (RI) estimates;
MS Interpreter, with major updates; and
Automated Mass Spectral Deconvolution and Identification System (AMDIS), updated in 2019.
NIST20 contains major enhancements over NIST11:
The NIST/EPA/NIH Mass Spectral Library: This release contains 306,622 electron ionization (EI) spectra of 306,869 different chemical compounds — an increase of nearly 40,000 compounds from the previous release (NIST17). Spectra for Human \& Plant Metabolites, Food/Flavor/Fragrance, Drugs \& their Metabolites, Forensics, Toxins, Pesticides \& Contaminants, Industrial Chemicals, Petrochemicals, Surfactants, Lipids, etc.
The NIST Tandem (MS/MS) Library has 31K compunds, twice that in NIST17, with 186K precusor ions and 1.3M spectra. Fragmentation methods include High-Resolution Accurate Mass (HRAM), 28K compounds; QTOF, HCD, IT-HRAM, and QqQ, 30K compounds; Ion Trap, 29K compounds; and APCI HRAM, 246 compounds. Precursor Ion Types include 27K Protonated, 13K Depronated, 10K Water/Ammonia Loss, and 24K other in-source generated. More than half of the compunds and spectra are metabolites, with 6K human metabolites.
A trial version of the software is available for downnload here.
Components of NIST20 are available separately
Tandem (MS/MS) Library Only — $595 (included with NIST20 License)
Non-Spectral Data Only — $595 (included with NIST20 License)
GC Method / Retention Index Library Only — $495 (included with NIST20 License)